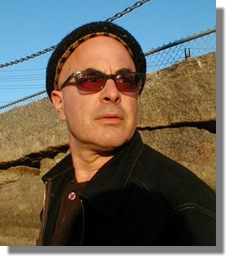 l
Director Henry Ferrini's previous films have won numerous awards, played in Boston at the Museum of Fine Arts and been broadcast on PBS. His work includes Witch City, a cautionary tale about Salem, MA; Poem In Action, "a heartfelt glimpse into the life of a poet; Radio Fishtown, called by the Boston Globe "a piece of poetic silver"; and Letters, a series of short films made in the former Yugoslavia.
Henry Ferrini has been making films from his home in Cape Ann, Massachusetts for over 20 years. His first film The Light, the Quality, the Time, the Place is a meditation on environmental responsibility in Gloucester. It was produced with a CETA grant from the Carter administration. Thoughout the years his work has "crossed the cut" from his hometown to focus on the place Jack Kerouac calls "the great continent of New England."(hferrini@aol.com)
The San Francisco Film Festival praised Poem in Action, his portrait of Gloucester poet Vincent Ferrini as a "heartfelt glimpse into the life of a poet." Prior to that he produced, directed and shot the award-winning, Radio Fishtown, the story of the last remaining one man radio station operator in the country. The Boston Globe called Radio Fishtown, "a piece of poetic silver." Witch City, a darkly humorous tale of Salem, Massachusetts where a Disneyesque version of 17th Century American history is served up and consumed by the unwitting tourists, was co-directed and produced with Picture Business Productions . He also took on Director of Photography duties with Leather Soul. This film portrays the evolution of Peabody, Massachusetts leather tanning industry, where a workforce of 20,000 dwindled to less than 400. Leather Soul aired nationally on PBS and was called "a sterling example of rescuing working people's history." His current film Lowell Blues remembers the place Jack Kerouac could not forget. By fusing visual history, language and jazz into a film poem, Lowell Blues illuminates Kerouac's childhood home &endash; a place where "memory and dream are intermixed..."
Ferrini's work has been exhibited at the DeCordova Museum in Lincoln, Massachusetts, the Museum of Fine Arts and the Space in Boston and the Zone in Northhampton. He is presently developing a feature film based on a script written by himself and K.M. Riaf. Know Fish is a contemporary David versus Goliath parable, set in Gloucester against a backdrop of dwindling natural resources, greed and the forces of nature. It was a finalist in the Massachusetts Film Office's Script writing Competion and the Nantucket Film Festival.
His script in progress is called, Nahamkin the story about a jazz age Russian Jew who dreams of becoming an American farmer.
To fuel his documentary and personal projects he works in the industrial and commercial marketplace producing, directing, writing and shooting hundreds of sponsored films.