October, 2000

Kerouac Festival, Lowell, MA
December 21, 2000

WGBH-TV, Boston, MA
February 3, 2001

Transmedial Festival, Berlin, Germany
February 6-24, 2001

Museum of Fine Arts, Boston, MA
February 22-25, 2001

Insomniathon, Louisville, KY
March 7-12, 2001

Lowell National Park, Lowell, MA
March 12, 2001

Lowell High School, Lowell, MA
March 28, 2001

Massachusetts State House, Boston, MA
April 5, 2001

Footlight Theater, Boston, MA
May 4-6, 2001

Maryland Film Fest, Baltimore, MD
May 6, 2001

Maryland Public TV, Silver Springs, MD
May 18, 2001

Quincy Film Society, Quincy, MA
May 21, 2001

Cinematheque Toulouse, Toulouse, France
June 14, 2001

Wingate Theater, Haverhill, MA
July 2, 2001

Marblehead Arts Festival, Marblehead, MA
July 21, 2001

Cape Ann Historical Society, Gloucester, MA
July 30, 2001

Woods Hole Film Festival, Woods Hole, MA
August 8-12, 2001

Rhode Island Film Fest, Providence, RI
August 10, 2001

Georgetown Film Festival, Washington, DC
August 12-14, 2001

Red Bank Film Festival, Red Bank, NJ
October 3, 2001

Middlesex Community College, Lowell, MA
October 4, 2001

Castleton College, Castleton, VT
October 4-8, 2001

Lowell Celebrates Kerouac, Lowell, MA
October 11-21, 2001

Denver International Film Festival, Denver, CO
October 18-20, 2001

The Fifth Congress of the Americas, Puebla, Mexico
October 25-28, 2001

LIPS: London International Poetry & Song Festival, London, England
(see Fringecore's article on Johhny Depp/Lowell Blues/LIPS)
November 1, 2001; 7:00 P.M.

Coolidge Corner Cinema, Brookline, MA
Part of its Video Balagan series.
December 1, 2001; 8:15 P.M.

Fine Arts Cinema, 2451 Shattuck Av., Berkeley, CA
Winner of Grand Festival Award in the Berkeley Video Festival.
January 10, 2002; 10:30 P.M.

WNET - Channel Thirteen, NYC Public Television
January - March, 2002

on all Texas PBS stations; part of "The Territory", a 13-part series of independent work
February 7-9, 2002

Magnolia Independent Film Festival, Starkville, MS
March 1-3, 2002

DocSide Film Festival, San Antonio, TX
International Conference Center of the University of the Incarnate Word
March 6, 2002

Middlesex Community College, Lowell, MA
March 12-17, 2002

Festival International du Film sur l'Art, Montreal, Quebec
March 20, 2002; 7:30 P.M.

WGBH, Boston Public Television
April 4, 2002; 9:00 P.M.

KUHT, Channel 8, Houston Public Television
date pending

National Gallery, Washington, DC
date pending

Maine Public Broadcasting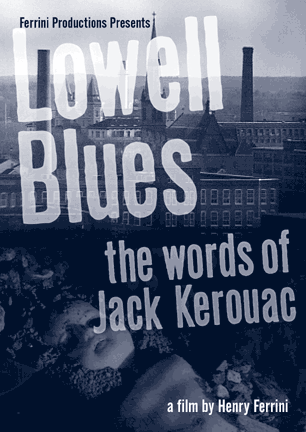 Filmmaker Henry Ferrini captures the vividness and musicality of Kerouac's writing...a stunning visual tour.

-Marisa Guthrie
Boston Herald, 12/20/2000


This film is fully worth the viewing, several times (and if you can watch it on a big screen, do). Ferrini's photography and filmmaking are breathtaking...