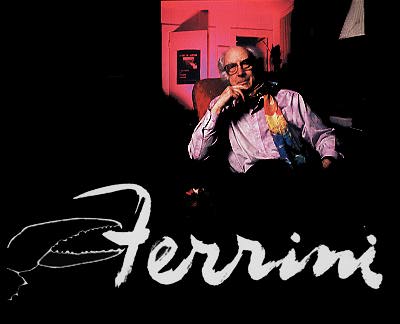 Seldom do art and life join so persuasively in one person ...
the combination of Ferrini reading with the film Poem in Action is a knockout punch.


Douglas Wilson, Professor Emeritus,
University of Missouri

---

Photo: Mark Tetrault
graphics & site sculpted by: Jo-Ann Castano

Republishing of No Smoke : ask for a copy to read at your local Library.



Published: Poetry, Plays & Autobiography

Gallery of Book Cover Art

Reviews

Poem In Action ... the film

Vincent Ferrini's Work On Line

Gloucester, Massachusetts
---
---
---
These pages are designed and maintained by Castano Design Associates. ... For Comments, Corrections or Update please contact: castano@artsgloucester.com Quantum Arts Site of Castano Design Assoc. was established December 21, 1995
All graphics / art contents Copyright © 1995 - 2002, Jo-Ann E. Castano . All Rights Reserved.

http://www.artsgloucester.com/Vincent/Ferrini.html